Pictured below is Our Model of "GearPlayer"(TM). It's use with Our idigital(TM) Service Insures accurate, timely Transcription of Your Medical Data. Be Sure to give USA-MEDI-TRANS a Try...You'll Be Glad You Did.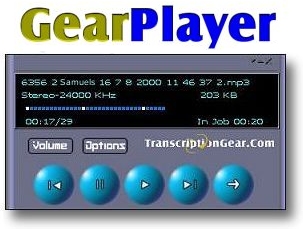 "idigital": When Time Is of the Essence


idigital™Delivers

idigital™ delivers ease of use and security. Your dictators utilize their existing telephone to call our 24-hour data center and dictate to a digital voice recorder using their touch-tone keypad.

Tapes of Doctor's Dictation to a Quality Handheld Tape Recorder concerning a Patient's Condition and/or Pre & Post Operative Comments and Observations can also be accessed using our System. Less "Time Relevant" Transcribed Tapes can be shipped to USA-MEDI-TRANS using Your Choice of Postal/UPS Delivery.

These files are packaged and sent as they arrive with optional HIPAA compliant encryption and security.



Need more?

idigital™ offers a wide range of optional services to provide You with even more value. You choose the the optional servicies you need for your individual operation.

Options Include:

Enhanced Reports of your activity on idigital™
Customized delivery of dictation files to multiple transcription locations
Completed document forwarding
HIPAA compliant encryption for your voice files and documents
Database access for managing your reports and creating reports customized for your Medical Transcription Needs.